DID YOU KNOW THAT Dr. Bob Rush of Somerton has the fastest growing pediatric practice in our area? "Chiropractic for children," you ask? "How can that be?! Whatever for?" The truth is, all kids should be checked for Subluxations, preferably just after birth, and certainly as early afterwards.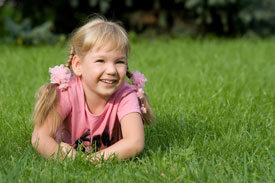 Our terrific Obstetrics doctors and nurses test the baby for many potential problems, including dysplasia of the hips. But they don't check them for Subluxations.  And as the kids grow older, their dentists check their teeth. But they don't check them for Subluxations, either.  All of the check-ups our kids receive are vitally important, and the best doctors are doing their best within their scopes of practice and understanding. But how many kids are checked for subtle (and sometimes not so sublte) Biomechanical and Nerve Interferences called Subluxations?  The answer is that if they haven't seen a doctor of chiropractic then they haven't been checked for subluxations! Then what do you do when the school nurse or the pediatrician tells you your child has a Scoliosis? And that they may need surgically implanted steel herrington rods that they'll wear forever? Is it too late then? Most of the time it is not!
Truth be told, if they had been check by a chiropractor even before they began walking this would never have been a discussion. But now that is is, what can be done short of this invasive surgery?  First and foremost *run* (don't walk) your child to the Chiropractor! In most cases Chiropractors can straighten a child's scoliosis safely and naturally, restoring it to it's straight, healthy and intended function. (Hint: look to the pelvis – don't worry – Dr. Bob will, and will explain to you why.)
And while at the chiropractor, let's check your beloved child for asthma, allergies, croup, enuresis (bed wetting) and other childhood disorders that can be a direct result of subluxations.  As a special offer, I charge just $20.00 per child for a full consultation and examination for new pediatric patients. The full $20.00 will go to the renowned Anti-Bullying Educational Organization, "Hey, U.G.L.Y." (Unique, Gifted, Loveable You) for which my daughter Devyn Rush, who you've seen on American Idol Season 10, speaks on behalf of, lecturing and performing around North America. 100% of your $20 will go to Hey, UGLY. Check out this wonderful organization at www.HeyUGLY.org (and Devyn at DevynRush.com).
Call today to have your infants, toddlers and children checked safely, comfortabley and pleasantly and I'll let you know how I can help them with any potential thus-undetected childhood problems. Call me at 215-677-2225 or email me through this site.   Warmly, Dr. Bob