Specializing in the Care of Infants and Children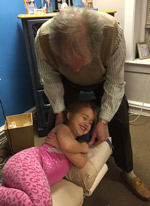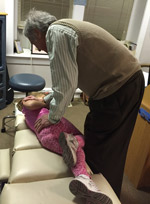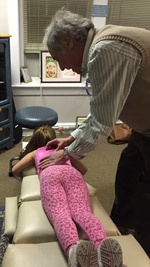 Her grandparents have been my patients for over 15 years and now I am privileged to care for "G." Soon her brother "A," and her Mom and Dad will be under care with me as well.
"G" suffers from asthma and also has extreme Pelvic Distortion Syndrome (not detectable to the untrained eye) which is the leading cause of scoliosis. Statistically, I do expect her asthma to be resolving pretty soon, and I now don't expect to see scoliosis plaguing this beautiful child once we get her hips properly balanced and aligned.
Her 8 year old brother "A" is extremely athletic and his parents are bringing him in to help keep him in top shape. After all, the Eagles and the Olympiads see chiropractors – why shouldn't an 8 year old future All-Star see one, too?!
I specialize in the care of infants and children. I am also a member of the ICPA (International Chiropractic Pediatric Council).
Want to give the gift of good health and excellent quality of life this holiday season?!
Call today and I'll happily extend to you, your children and all your loved ones a free Consultation and Examination! Call (215) 677-2225 to schedule your appointment!